New Years is coming up. My priorities have changed so much in the past year. And I want to be even better.
My New Years resolution. (I never actually had one before).
Be more punctual.
If I can get that under control--it would greatly improve my life. For New Years, I am leaving New York and going to New Orleans. But if i was staying in New York I would be at one of these...
New Years Parties
-------------------------------------
New Years Dream : New Years Eve
The Pleasure Corporation with the support of
TheDanger
and
a half dozen artist organizations is building the New
Years Eve event you dream of.
New Years Dream : December 31st through January 1st
Dozens of artists and performers are transforming two
spaces into the most decadent and intimate celebration of
new beginnings that this city has seen.  Featuring music
by Rich Medina, Adam Matta, Akim Funk Buddha, the Maracatu
Drum Core, and the Ruel String Band. Experience the beauty
& burlesque of Ooh La Luz, daring do from Poofy the Clown,
two thousand seven acts of indulgence by Boring Incorporated,
massive art and much much more.
Proceeds from this event benefit the rebuilding of the 9th
Ward of New Orleans.  The immense need continues and we
are doing all we can to support our sister city.
Save the date, full details will be revealed next week.
Two thousand seven will be the best year of your life.
-------------------------------------
Mad Suspect New Years
Sunday December 31st
BANG IT OUT New Years Eve Party 07
w/ The Captain + Shark
Drop The Lime
Egg Foo Young
after the 4 - The Bangers
$60 -ALL YOU CAN DRINK - 10 - 4
$50 pre sale tickets available at Savalas
Savalas
285 Bedford St. bet. S. 1st + Grand St.
Williamsburg, Brooklyn
-------------------------------------
The Rub New Years Eve Party
Sunday, December 31, 2005
The Rub New Years Eve Party
DJ Ayres
, Cosmo Baker & DJ Eleven
with guest DJs Catchdubs, Caps & Jones
Rahnon's Birthday!
Free Champagne Toast at Midnight
Free food 9PM - 10PM
Party 10PM – 4AM
$50 tickets
Tickets available at TicketWeb.com
Southpaw
125 5th Avenue Brooklyn, NY 11215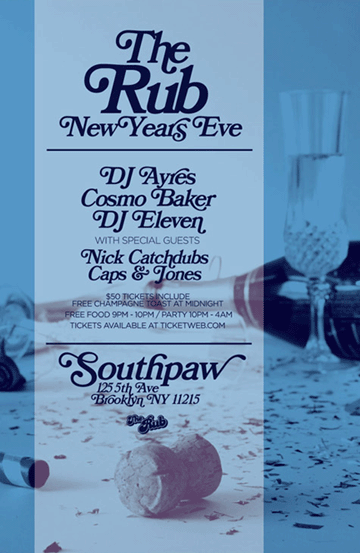 # # # #
Also it would be ridiculous not to recap on the ridiculously beautiful
street art show
this past weekend. The line was 6 blocks long to get in to this free show. It took hours for us to get in--luckily we could take took turns holding the place in line. But it was absolutely worth it. The vibe was awesome. Some people were buying soda and giving it away.